Southlawn IV Ribbon Cutting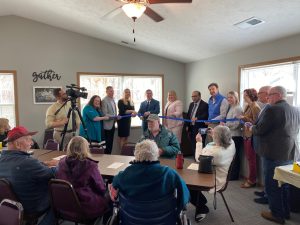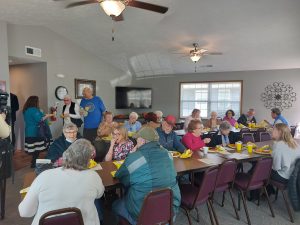 Excel Development Group and Advantage Capital hosted a Ribbon Cutting Event at 11:00 AM on Tuesday, April 19, 2022, at the Southlawn IV Community building located at 1747 Ada Street, Grand Island, NE 68803. The Ribbon Cutting celebrated The Southlawn IV rehabilitation project of the Southlawn Apartments (originally built in 1999), which consist of 9 four-plexes (36 units). All 36 units are two bedrooms and one bathroom(950 sq. ft. of living space, 276 sq. ft. of garage space, total of 1,226 sq. ft.)for seniors (55+).
The Southlawn IV Development was awarded the following funding:
$3,296,950 (total) in State & Federal Low-Income Housing Tax Credits from the Nebraska Investment Finance Authority (NIFA)
$850,000 in HOME Investment Partnerships Funds (HOME) from the Nebraska Department of Economic Development (DED)
$750,000 in Affordable Housing Program (AHP) Funds from the Federal Home Loan Bank of Topeka
Speakers:
Jim Rieker, Advantage Capital
Mayor Roger Stelle
State Senator Ray Aguilar
Sara Tichita, Nebraska Investment Finance Authority
Morgan Pearson, Nebraska Department of Economic Development
Tom Thull, Federal Home Loan Bank of Topeka
Ruth Sorrell, Advantage Capital
Mikaela Stuart, Cornerstone Bank
Jennifer McCabe, Excel Development Group
Unit Makeup (Area Median Income – AMI)
17 Units at 60% AMI – $540 a month
15 Units at 50% AMI – $540 a month
4 HOME Units at 50% AMI – $485 a month
*Water, Sewer, and Trash services paid by owner
The total project cost of Southlawn IV is $5,684,469 and the funding of the project is comprised of: Tax credit equity (federal & state) of $3,296,950; AHP Funds of $750,000; HOME funds of $850,000; GP equity of $75,000; deferred developer fee of $29,780 and permanent financing of $682,634.
Development Team
General Partner: Midwest Housing Initiatives
Developer/Property Manager: Excel Development Group
General Contractor: Excel Construction Company
Architect: Architectural Design Associates (ADA)
Development Attorney: Andrew Willis, Cline Williams
Accountant: Scow, Reif, Kruse & Schumacher
Federal & State Tax Credit Syndicator: Advantage Capital
Construction and Permanent Financing: Cornerstone Bank
Affordable Housing Program (AHP) Funds: Federal Home Loan Bank of Topeka
HOME Funds Allocating Agency: Nebraska Department of Economic Development (NDED)
Federal & State Tax Credit Allocating Agency: Nebraska Investment Finance Agency (NIFA)
According to the Grand Island 2020 Housing Study the city needs to encourage the development or substantial renovation of 1,360 housing units before the end of 2024. The Southlawn IV development will help towards the City of Grand Island's housing needs.
About EXCEL DEVELOPMENT GROUP:
Excel Development Group is a development, property management and consulting firm specializing in affordable housing for over 33 years.  Excel Development Group has completed over 2,500 low- to moderate-income, and market-rate units totaling over $300 million in development throughout the Midwest. Excel Development Group creates partnerships with not-for-profit and for-profit housing organizations, community organizations and city, county, and state agencies to produce high-quality affordable housing.
About ADVANTAGE CAPITAL:
Advantage Capital provides financing to established and emerging companies located in communities underserved by conventional sources of capital. Since 1992, the firm has invested more than $3.6 billion in companies from a diverse array of industry sectors and has helped support more than 65,000 jobs.