what people say about EXCEL DG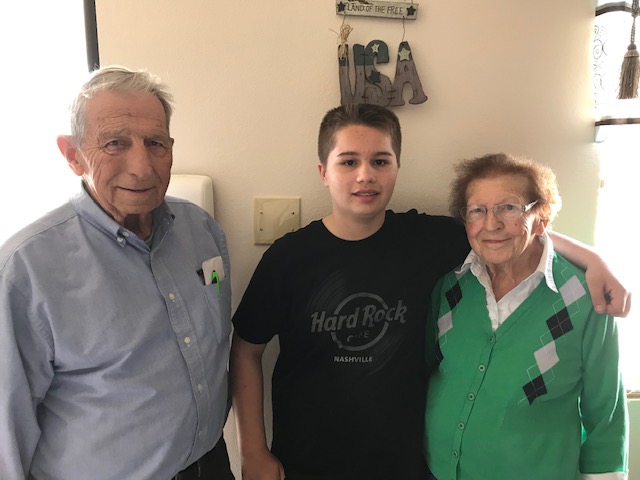 Excel Development Group Gives Relief to Flood Victims.
The Stork family is truly Nebraska Strong. The Storks lost their home of 65 years in the recent flooding. Unable to rebuild their 100+-year-old home in Winslow, Nebraska, the Storks were in need of housing. Excel Development Groups was able to provide Mr. and Mrs. Stork and their 14-year-old grandson with housing.
"We are thankful for the opportunity to live, at least temporarily, in an affordable tax credit property close to our adult sons in Seward."
– Mr. Stork
Everything is brand new. They didn't cut corners anywhere…everything is perfect. From the light fixtures to the lazy susans, alarm systems, ceiling fans in every room…they did everything first class. I'm disabled and couldn't afford a lot of the apartments around town, and a lot of them are run-down, but they're still charging a terrible amount for rent. This was such a blessing to find something that's super affordable, and still have enough left to live a comfortable life but yet have something I can be proud of and not afraid to live in. I just love it here!

We're so pleased to partner with Excel Development Group to serve the future residents of the Goddard Senior Homes community. We're especially honored that some of these units are reserved for military veterans and their spouses. A chance for us to give back for all that they gave to us.

Medicalodges, Inc. is very excited to be partnered with Excel Development Group in bringing additional affordable housing to Goddard, KS. This project has been a long time coming and we appreciate the dedication and perseverance of Excel Development Group in continuing to work with Kansas Housing Resource Corporation to get this project approved, built and open for occupancy. We couldn't be happier with how the final project has expanded the senior housing services we can provide to Goddard and the surrounding area.

I want to welcome the Goddard Senior Homes to the Goddard, KS community. These new affordable duplexes for our state's low to moderate-income seniors are great news for our state. I'd like to thank Excel Development Group and the Kansas Housing Resources Corporation for their work on this project. As your Governor I will continue to support affordable housing and the Low-Income Housing Tax Credit (LIHTC) Program that makes projects like these possible, and providing our state's seniors with affordable, clean, safe homes they deserve.

The apartment is beautiful, and it makes me feel that I'm not low-income. I feel like I have a beautiful home to come home to every day. And I have a great community here on top of that. Being able to afford rent and to rebuild my life with not my whole paycheck going to rent…I can take care of myself and daughter and pay bills and to start and actually get ahead in life. For me, that's huge... it's freedom.

As usual, I'm very pleased with our maintenance department. Just yesterday I called Jeff about a clogged dryer vent and 24 hours later, Tony was here. He cleaned out the dryer vent, and then he cleaned up his mess. Can't ask for any better than that. I'm also impressed by the very prompt snow removal services we have. It doesn't snow much before they are here, and they shovel right up to my door. Can't ask for any better than that either. So many thanks and compliments to the Excel team. I'm really happy with how you guys look after us.

My Yorktowne Estates home lets me live without homeowner worries. I don't have steps, my lawn is taken care of, my neighborhood is safe, and my neighbors are caring friends.

I like the housing community because it is very well taken care of. The maintenance crew is amazing! This summer will be 6 years that I have been a resident, and I am still satisfied. Never once have I had to wait for repairs, everything is handled effectively and swiftly. That means a lot to me because I like to keep my home nice, and having something that needs repaired would bother me. The general upkeep of the community is nice as well – the grass is cut regularly, shoveling is handled well, trash is kept up, etc. I mostly enjoy living in a nice beautiful home. Thanks!!

Our Landlord is amazing and always makes time for us even if it is something small. There are a lot of families with a wide range of ages and it gives our kids a chance to get to know other people and play with them. There is plenty of room for our family here and the clubhouses are almost always available to use. We love it here.

Neighborhood gives a close net family vibe. I have been able to develop trust worthy relationships and we look put for each other and housing is affordable.

It was the best decision I ever made, moving into these townhomes.

Yes, I am enjoying my home very much. I've recommended them to my friends too. I'm so grateful to be here.

I'm so comfortable here, no steps, bright and cheerful, I love it here.

I love, love, love it here. I'm so happy to be living in these townhomes.

We love our new 3-bedroom home. Its the best we have ever lived in.

I really like it here. The neighbors are very nice and look out for one another. It is bright, quiet, and beautiful! Thank you so much for allowing me to be a part of this blessed community.

Your development in our community is oustanding! I cannot tell you how many people have made positive comments to me about this neighborhood your company has created. The city council members have made numerous positive comments to me as well. You will not find one person in our town unhappy with this development.