Southern Hills Senior Homes Groundbreaking – Topeka, KS Affordable Housing Development
Links to News Stories:
https://www.wibw.com/2023/06/23/new-senior-living-facility-breaks-ground-se-topeka/
https://www.wibw.com/2023/06/13/crews-break-ground-new-senior-living-development-topeka/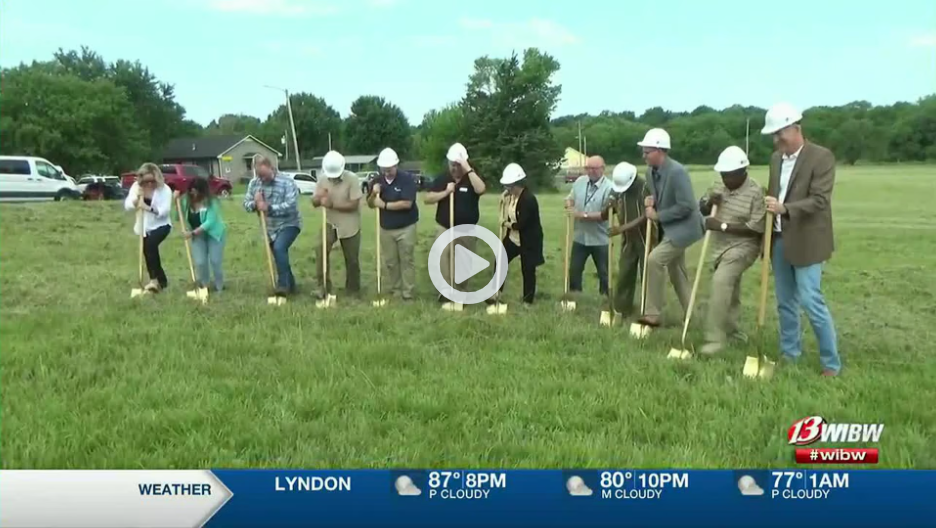 Topeka, KS: Cornerstone of Topeka and Excel Development Group hosted a groundbreaking event for the Southern Hills Senior Homes development at 9:30 AM on Friday, June 23rd, 2023 at SE 38th St and SE Adams St, Topeka, Kansas 66605. The groundbreaking will celebrate the beginning of the construction of the Southern Hills Senior Homes affordable senior (55+) housing development which will consist of the new construction of 12 duplexes (24 units) and a Community Building. All 24 units are two bedrooms and one bathroom.
"Cornerstone of Topeka is excited to partner in the largest new construction development in our history! Affordable housing, especially for seniors, is in high demand and we are happy to continue our work to address that challenge." – Chris Palmer, Executive Director, Cornerstone of Topeka
The Southern Hills Senior Homes Development was Awarded the Following
• $625,000 of Federal Low-Income Housing Tax Credits (LIHTC) for 10 years and $1.5 million of HOME Investment Partnership Funds from the Kansas Housing Resources Corporation (KHRC)
Permanent Financing from Horizon Bank of $341,334 rounded off the total capital stack for the $7,184,550 affordable housing development.
"We are pleased to join with Excel Development Group, Cornerstone of Topeka, and our development partners to expand housing opportunities for Kansas seniors," said Alissa Ice, Housing Development Director at Kansas Housing Resources Corporation (KHRC). "Southern Hills will provide 24 affordable, quality homes, enabling residents to live with dignity and independence."
All 24 units in the Southern Hills Senior Homes development are two bedrooms and one bathroom with 1,034 sq. ft. of living space, 292 sq. ft. of garage space, 1,326 total sq. ft. They all have single levels with exterior features such as partial brick and landscaping. Amenities include a community building, single-car garage, washer, dryer, dishwasher, refrigerator, stove, storage area, and a rear patio. 17 units are target to seniors making at or below 60% of the area median income (AMI) and pay $650 a month in rent, 1 unit is at 40% AMI and $525 a month, and 4 units are at 30% AMI and $400 a month. Water, sewer and trash services are provided by the owner.
"We're very proud to be a part of the Southern Hills Senior Homes project and our continued partnership with Cornerstone of Topeka in helping provide another high-quality affordable housing option to the Topeka community." – Brent Williams, President, Excel Development Group
Development Team:
Cornerstone of Topeka – General Partner and Property Manager
Excel Development Group – Developer
Kansas Housing Resources Corporation (KHRC) – LIHTC State Allocating Agency & HOME Funds
Midwest Housing Equity Group – Federal Tax Credit Syndicator
Horizon Bank – Construction and Permanent Loan Financer
Shirley Construction – General Contractor
Architectural Design Associates – Architect
REGA Engineering – Engineer
SBB Engineering – Engineer
Cornerstone of Topeka: The organization began with a short-term Transitional Housing Program, providing housing and resources to assist individuals and families experiencing homelessness to get back on their feet. In 1990, Cornerstone expanded services to provide permanent affordable housing. Cornerstone currently has 179 housing units consisting of single-family Homes, Duplexes and a few fourplexes. Twenty-three of these units are dedicated to providing housing to the homeless population at a very low rent with all utilities paid. Approximately 80% of our tenants receive no rent subsidy.
Excel Development Group: Excel Development Group is a development, property management and consulting firm specializing in affordable housing for over 34 years. Excel Development Group has completed over 2,500 low- to moderate-income, and market-rate units totaling over $300 million in development throughout the Midwest. Excel Development Group creates partnerships with not-for-profit and for-profit housing organizations, community organizations and city, county, and state agencies to produce high-quality affordable housing.