Canyon Creek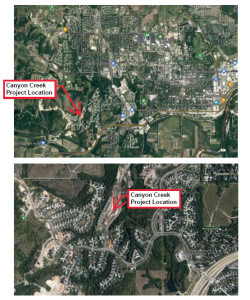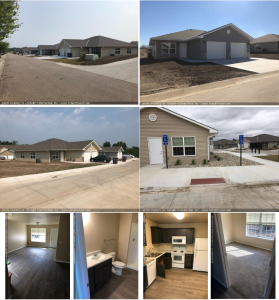 Canyon Creek Project Description:
Canyon Creek is an affordable senior (55+) housing development in Manhattan, Kansas. The project includes 18 senior duplexes (36 units) and a community building. All units are 2 Bedrooms with 1 bathroom (1,034 sq. ft. of living space, 292 sq. ft. of garage space, 1,326 total sq. ft.). All units in the Canyon Creek Development are single levels with exterior features such as partial brick and landscaping. Amenities will include a community building, single-car garage, washer, dryer, dishwasher, refrigerator, stove, microwave, storage area, and a rear patio.  All units have a minimum HERS score of 75 or below. Creation of the Canyon Creek Tenant Association with the mission to help build a sense of community. to help ensure the safe, clean, enjoyable neighborhood for all residents, maintain proper conditions in our units, work with the property owner as a group, educate tenants on their rights and obligations, and to provide information, assistance and educational programs to tenants. GreenPath will provide access to credit counseling for all residents. This one-on-one counseling will help residents identify goals, build a budget, and create action steps that will guide them on their journey to improved financial health.
The total project cost of Canyon Creek is $7,748,890; the funding of the project is comprised of: tax credit equity (Federal) of $5,348,923, AHP Funds of $999,000, HOME funds of $650,000, GP equity of $145,000, and permanent financing of $605,967.
Unit Makeup (Area Median Income – AMI)
• 16 Units at 60% AMI – $650 a month*
• 15 Units at 50% AMI – $550 a month*
• 5 Units at 40% AMI – $450 a month*
*Water, Sewer, and Trash services paid by owner
Development Team
Kansas Housing Resources Corporation (KHRC) – LIHTC State Allocating Agency & HOME Funds
Federal Home Loan Bank of Topeka – Affordable Housing Program (AHP) Funds
Manhattan Area Housing Partnership, Inc. – General Partner, Consultant, and Management Company
Excel Development Group – Developer
Kutak Rock – Tax Attorney
DMZ Indianapolis – Accountant
Architectural Design Associates – Architect
Midwest Housing Equity Group – Federal Tax Credit Syndicator
Horizon Bank – Construction and Permanent Loan Financer
Schultz Construction – General Contractor