Affordable Housing Tax Credit Coalition Honors The Villages at A New Leaf in Owasso, OK with National Award
28th Annual Charles L. Edson Tax Credit Excellence Award recognizes best in affordable housing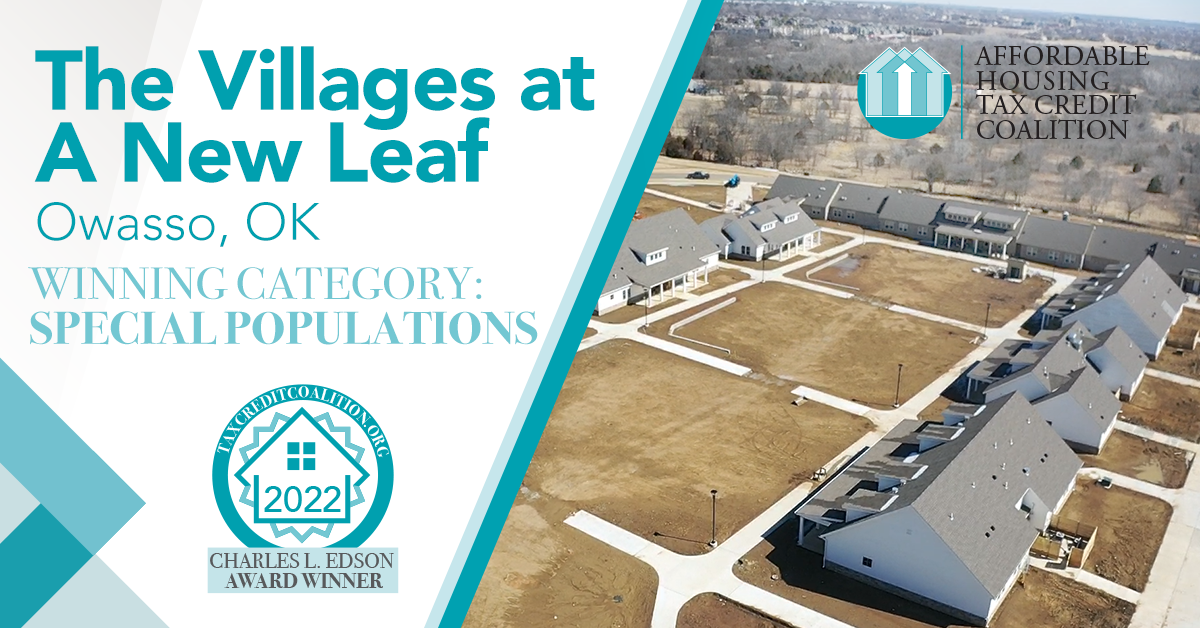 Washington, D.C. – The Affordable Housing Tax Credit Coalition (AHTCC) today announced that The Villages at A New Leaf in Owasso, Okla., is a 2022 recipient of the Charles L. Edson Tax Credit Excellence Award (Edson Award) in the Housing for Other Special Populations category, recognizing affordable housing and organizations that have demonstrated impactful use of the Low-Income Housing Tax Credit (Housing Credit).
Presented annually, the Edson Awards honor Housing Credit developments that strengthen communities, improve resident opportunities and support economies in urban, suburban and rural areas across the country.
"As rents have skyrocketed over the past year, these properties have provided sorely needed relief to their residents while improving their communities," said AHTCC Chief Executive Officer Emily Cadik. "This year's Edson Award winners have changed lives and neighborhoods for the better and show how much more we could gain if we further expand the program."
The Villages at A New Leaf, co-developed by A New Leaf, Inc. and Excel Development Group, provides 62 affordable homes serving people with developmental disabilities and autism. The 4 percent Housing Credit was used to finance development of the property, with financing facilitated by Midwest Housing Equity Group. The property is part of an "agrihood," a planned community that integrates agriculture and farming into the residential neighborhood – the first of its kind in Oklahoma. The property's 62 homes are situated in eight buildings around planting fields centered in the middle of the community, and residents are provided with opportunities onsite as part of the property's supportive services. A New Leaf facilitates vocational training to residents, allowing them the chance to work on the neighborhood's farms, greenhouses, or various community sites. Job coaches, money management services, and a resident service coordinator are also available to support residents.
"Now the nation is celebrating what Oklahomans already know, the Villages at A New Leaf are truly remarkable. Now located in Owasso and Broken Arrow, Oklahoma, A New Leaf offers incredible housing, work, and learning opportunities for developmentally disabled adults. The folks I have met at A New Leaf—from the joyful clients, to the joyful, attentive, and hard-working staff—are clearly happy to have such a wonderful place to live and work. I am excited about the new opportunities A New Leaf brings to these communities and that they are being recognized with an Edson Award for their vital work." – U.S. Senator James Lankford
Since 1986, the Housing Credit has financed more than 3.6 million homes for low-income households, including formerly homeless individuals and families, people with disabilities, veterans of the armed forces, and senior citizens. Through public-private partnerships, the Housing Credit offers a proven track record of financing safe, quality, and stable affordable homes in communities where they are needed most.
"As is consistently the case, the Edson Award winners this year have demonstrated tremendous capacity and creativity in providing affordable homes to families in need in rural and urban communities, and particularly for at-risk populations including seniors, veterans, and the formerly homeless," said Matt Josephs, AHTCC Board President and Senior Vice President for the Local Initiatives Support Corporation. "Their properties help to showcase why housing credits are so impactful, and I congratulate all of the awardees on their success."
For more information about the 2022 Edson Awards, please visit taxcreditcoalition.org/edson-awards/.
# # #
About the Affordable Housing Tax Credit Coalition
Founded in 1988, AHTCC is a trade organization of housing professionals who advocate for affordable rental housing financed using the Low-Income Housing Tax Credit (Housing Credit). AHTCC's for-profit and non-profit members—including syndicators, investors, lenders, developers, legal and accounting professionals and state allocating agencies—seek to preserve, expand and improve the Housing Credit and complementary programs through legislative outreach and education.
About Charles L. Edson
The Edson Awards are named for Charles L. Edson, an affordable housing luminary who was Transition Director for the U.S. Department of Housing and Urban Development under President Carter, served in the Office of the General Counsel at HUD and served as Co-Editor-in-Chief of Housing and Development Reporter for nearly 40 years.