Excel Development Group Celebrates The Ground Breaking Of Magnolia Ridge II.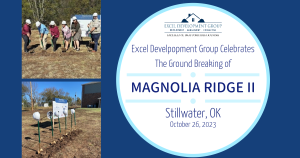 Excel Development Group Celebrated The Groundbreaking Of Magnolia Ridge II, Bringing Affordable Housing To Families In Stillwater, Oklahoma.
STILLWATER, OK– Excel Development Group and Midwest Housing Initiatives celebrated the Groundbreaking of Magnolia Ridge II, on October 26th, 2023, at 1:30pm, held at 702 S. Jardot Rd., Stillwater, OK 74074. Magnolia Ridge II will build 12 new apartments as an addition to Magnolia Ridge. The new units will provide affordable housing to families in the Stillwater area. The units will consist of six two bedrooms with two bathrooms and six three bedrooms with two bathrooms.
"Midwest Housing Initiatives is very excited to be partnering with Excel Development Group on the Magnolia Ridge II project in Stillwater.  We feel this is an excellent opportunity to continue our goal of providing quality affordable housing across Oklahoma and throughout the Midwest." – Corey Vandewege, President of Midwest Housing Initiatives
"The Low-Income Housing Tax Credit (LIHTC) program is a powerful tool for addressing the critical issue of affordable housing. It demonstrates our collective determination to ensure that every member of this community has access to a safe, comfortable, and affordable place to call home." – Brent Williams, President of Excel Development Group
Magnolia Ridge II will be a new addition to Magnolia Ridge which is currently providing affordable housing to low-income families in Stillwater. The new units will provide spacious living quarters giving the two-bedroom unit 968 sq. ft. and the three-bedroom unit with 1260 sq. ft. All bedrooms will have ceiling fans. The kitchens come with stove/oven range, refrigerator, microwave, and dishwasher. Washer and dryer hook-ups accessible within the units. A dual carbon monoxide and smoke detector are in every unit as well as a security alarm bringing families comfort within their homes. Other amenities at Magnolia Ridge II are storm shelters and a cornhole game for families to enjoy.
"The Oklahoma Housing Finance Agency is proud to have provided Affordable Housing Tax Credits to make the next phase of Magnolia Ridge possible. It will be a wonderful place for Stillwater residents to call home."  – Oklahoma Housing Finance Agency
 "I'm a strong supporter of affordable housing. Excel Development Group continues to provide safe and quality homes. I am proud to have such a project coming to our district." – Congressman Frank Lucas, representing Oklahoma's Third Congressional District
The Development Team:
Midwest Housing Initiatives – Non-Profit and General Partner
Excel Development Group – Developer
Oklahoma Housing Finance Agency – LIHTC State Allocating Agency
CREA, LLC – Federal Tax Credit Syndicator
Horizon Bank – Construction and Permanent Loan Financer
Express Building, Inc. – General Contractor
Architectural Design Associates – Architect
REGA Engineering – Engineer
Midwest Housing Initiatives:  Midwest Housing Initiatives (MHI) was established in 2002 and is a non-profit 501(c)(3) housing corporation with experience in developing affordable housing projects using Low-Income Housing Tax Credits (LIHTCs), HOME Funds, FHLBank of Topeka AHP Funds, Tax Increment Financing, Housing Trust Funds, conventional lending, and other sources. To date, MHI has developed projects in Nebraska, Kansas, and Oklahoma totaling over 700 units.
About Excel Development Group: Excel Development Group is a development, property management and consulting firm specializing in affordable housing for over 34 years. Excel Development Group has completed over 2,500 low- to moderate-income, and market-rate units totaling over $300 million in development throughout the Midwest. Excel Development Group creates partnerships with not-for-profit and for-profit housing organizations, community organizations and city, county, and state agencies to produce high-quality affordable housing.