August 2019 Specials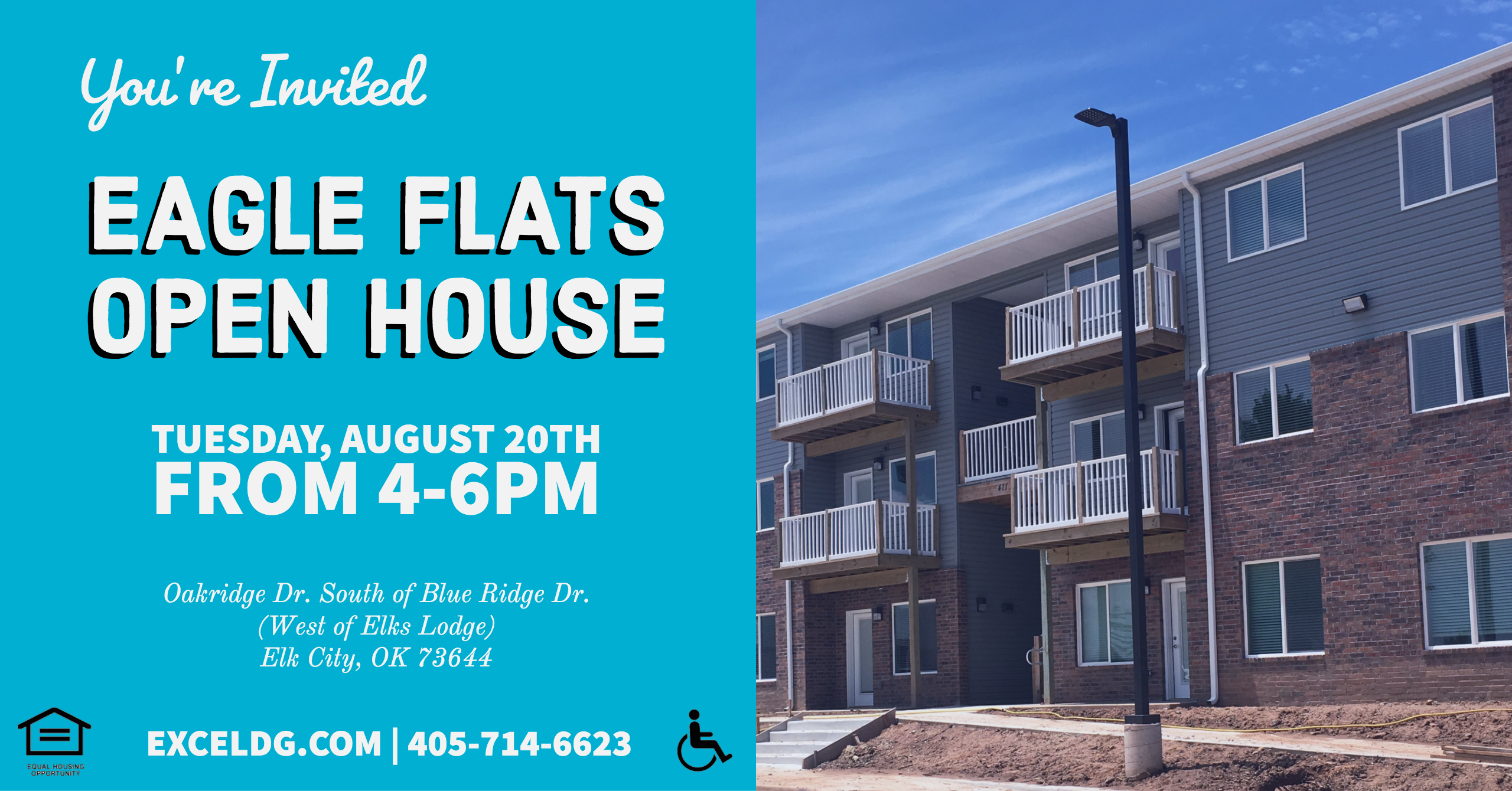 Eagle Flats
Elk City, OK
EAGLE FLATS OPEN HOUSE!
Tour the spacious 2 and 3 bedroom – 2 bathroom apartments at the brand new Eagle Flats Apartments in Elk City Oklahoma on Tuesday, August 20th from 4-6pm. People who attend will be able to:
– Tour available units
– Fill out applications
– Learn more about affordable family housing
– Enjoy cookies and refreshments
Excel Development Group is an equal housing opportunity provider. If you have any questions call us at 405-714-6623 or 1-800-378-9366.
Apply here: https://exceldg.com/properties/eagle-flats-apartments/
Jefferson Estates
First Move-Ins
New residents found their home this week as the first couple of duplex opened up to residents at Jefferson Estates in Fairbury, NE.
 Interested in the new affordable senior housing in Fairbury, NE visit: https://exceldg.com/properties/jefferson-estates/. Follow us on Facebook for future Jefferson Estates Open
House details:
https://www.facebook.com/exceldg.
CONTACTING MAINTENANCE
For regular maintenance issues contact Excel at 1-800-378-9366 or maintenance@exceldg.com.
For emergency maintenance issues that happen beyond Excels regular business hours (M-F: 8 am – 5 pm) contact Excel at 402-525-3226 or email maintenance@exceldg.com.
*Except for emergency repairs, Excel will provide the tenant with 24 hours written notice of entry.
**Please notify the Property Management Company immediately of needed repairs including, but not limited to: dripping water faucets; running toilets; defective appliances or heating and cooling system; broken windows; water leaks of any kind; or any other defective part of the premises.