COSCDA Sterling Achievement Award
DED recognizes City Impact, Lincoln, with the COSCDA Sterling Achievement Award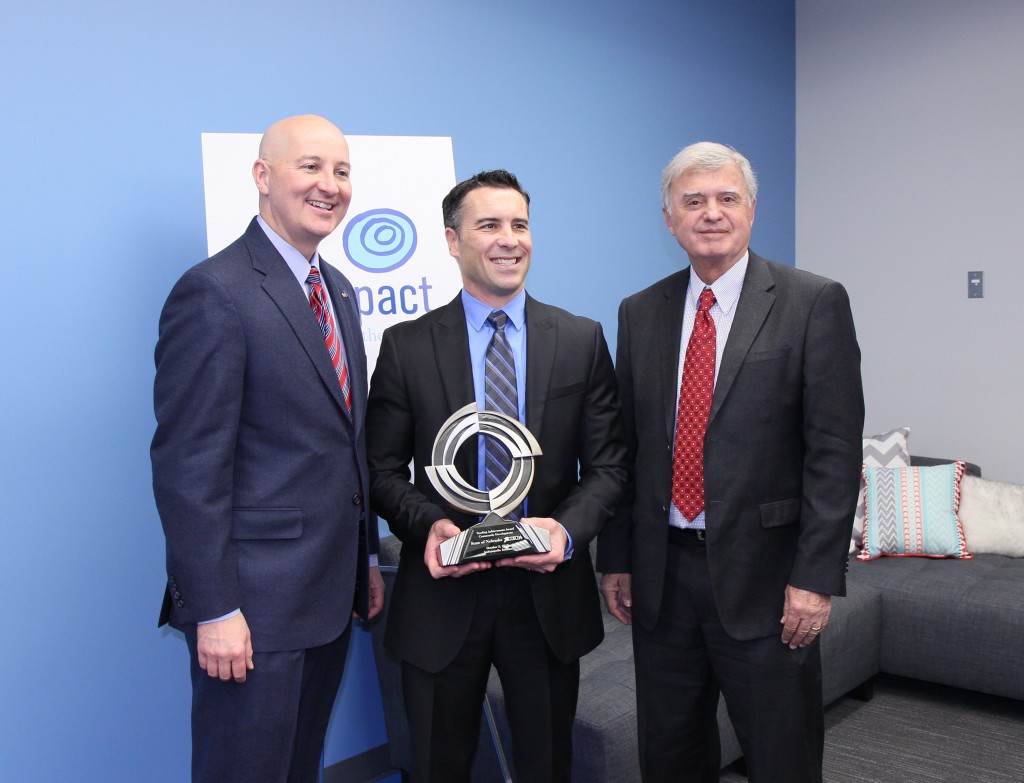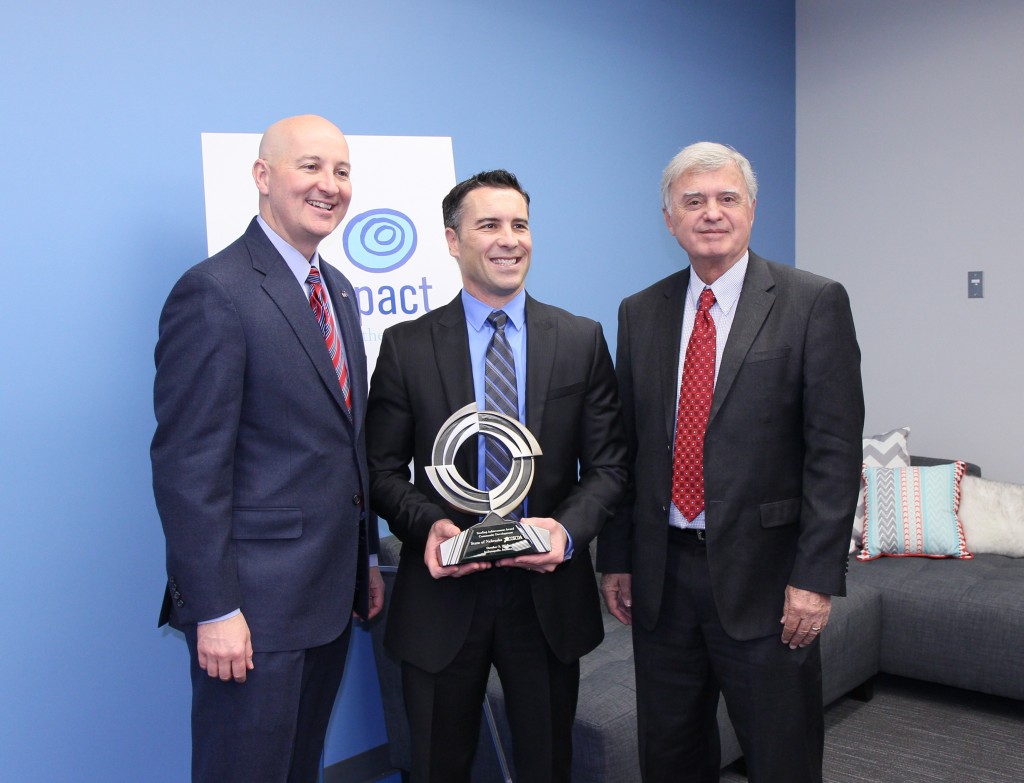 Photo: left to right – Governor Pete Ricketts, Brad Bryan, Co-Executive Director, City Impact and Lincoln Mayor Chris Beutler
November 30, 2015 (LINCOLN, NEB.)—The Nebraska Department of Economic Development (DED) today shone a sterling light on all of the hard work of City Impact in Lincoln, Neb., a nonprofit organization that has been around for nearly 20 years helping urban youth and families.
The State of Nebraska, Department of Economic Development received the prestigious Sterling Achievement Award for Community Development from the Council of State Community Development Agencies (COSCDA) in Washington, D.C. in October and presented the award to City Impact this week. On hand to present the award were Governor Pete Ricketts and Lincoln Mayor Chris Beutler. The award highlighted a project that included two significant revitalization efforts. The first was a collaborative housing project between the housing developer Excel Development, the Nebraska Investment Finance Authority (NIFA), DED, and several other partners. The second was construction of the 24,000 sq. ft. City Impact Center, which was built entirely through private donations.
"We are very grateful and honored to accept this award on behalf of our supporters and many community partners who came together to make this development possible. Now we are looking forward to seeing this new City Impact Center, park, and neighborhood as place to develop the talents and strengths of the youth and families who will make an even greater impact in our city and beyond," said Brad Bryan, Co-Founder / Co-Executive Director, City Impact.
"I congratulate DED, City Impact, and Excel Development for their dedication and concerted efforts to create strong public-private relationships that help improve the lives of Nebraskans through community development and outreach," said Governor Pete Ricketts.
"For the past two decades, Brad and Carma have been building more than homes, facilities and programs–they have been building community. City Impact continues to offer the services that can truly change the lives of individuals and families in these core neighborhoods. Through dedication and hard work, the City Impact staff, volunteers, donors and partners are strengthening our entire community. Congratulations to everyone involved in these two outstanding projects," said Mayor Beutler.
"It is an honor for the State of Nebraska to be recognized with COSCDA's Sterling Achievement Award. It emphasizes how important collaboration and leveraging resources can be to assist organizations, such as City Impact, in providing citizens with the opportunities to improve their lives," said Eric Zeece, Acting Director of Nebraska Department of Economic Development.
Details of City Impact's efforts included:
Brad Bryan and his wife, Carma, founded City Impact in 1997 after he met a family from Nigeria and began walking through life with her two sons and other boys in neighborhood. Bryan offered to tutor and mentor several of the boys. Nineteen years later, the Bryan's have grown City Impact to offer a variety of services that include a reading center, Bible club, leadership academy, strengths for life mentoring, "Gifts of Love" Christmas store and much more.
City Impact Homes—In 2013, City Impact partnered with Excel Development Group to complete its housing goal to build 14 affordable housing units—six duplex-style townhomes and two single-family homes—on three acres of land on Overland Trail between 31st and 33rd streets. This project was located at the epicenter of the Clinton, East Campus and Hartley neighborhoods—key service areas for City Impact.
The land on which the new homes stand is a former construction storage site located in the middle of a former light industrial site rezoned into residential area after the adjacent rail line closed. The homes are located next to Peter Pan Park, which includes playground equipment, basketball hoops, tennis courts, sand volleyball courts, a picnic pavilion, a skate park, community garden, and the Mopac Trail, a bicycle path (formerly the rail line). This space not only serves as an ideal location for the City Impact homes, but also for the City Impact Center.
City Impact and Excel Development Group used the CROWN (Credits to Own) program, a lease-to-own housing program that makes home ownership opportunities available to very low-income wage earners as it helps communities revitalize poor neighborhoods. The CROWN program in Lincoln is administered by NIFA, which also provided low-income housing tax credits for the project.
Overall funding for the home construction included more than $822,000 in HOME funds from DED, $230,000 from Horizon Bank, $300,000 private equity funds from City Impact, $112,000 from the Federal Home Loan Bank of Topeka, $250,000 HOME funds from the City of Lincoln and the aforementioned tax credit equity from NIFA. The overall total project costs for the homes totaled more than $4.354 million.
Qualifying families and individuals (at or below 60% of the Area Median Income) were approved to rent the units for 15 years, during which time a variety of services and resources will be made available to them, including homeownership education on credit, finance, and home maintenance. At the end of the 15th year, they will be able to purchase their homes. A small stipend is set aside from the monthly rents to be made available to each renter at the end of the 15 years to help purchase the homes. Additional programs and services provided for residents include Strengths for Life Mentoring for youth; an Impact Leadership Academy for teens; an Impact Reading Center for all ages; RentWise Tenant Education, and financial counseling—all provided to tenants free of charge.
City Impact Center—City Impact also constructed the 24,000 sq. ft. City Impact Center this year. The Center not only serves residents of the City Impact units, but urban poor and underprivileged families and individuals in neighborhoods throughout Lincoln.
Phase one of the new center features classrooms for youth leadership, after school education, tutoring and mentoring, adult learning, English as a Second Language classes, counseling, early childhood learning, art Instruction, breakout rooms for seminars, and other programs. A multipurpose room is designed for special events, arts performances, social events and neighborhood meetings.
The center also features a recording studio for developing and cultivating talent and creativity, administrative offices, and a commercial kitchen designed to host health and nutrition seminars, serve meals for activity participants, and launch City Impact's food service entrepreneurs program.
Phase two will add a gym that serves community-based sports teams and leagues, and a wellness and fitness center with 24-hour access for tenants of City Impact Homes.