Canyon Creek Apartments – 36 Unit Affordable Senior Housing Project Close to Completion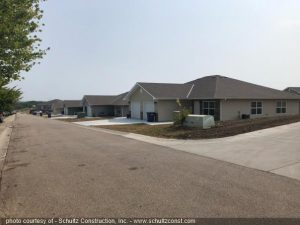 Canyon Creek Apartments, a new 36 unit affordable senior (55+) housing development, developed by Excel Development Group and managed by The Manhattan Housing Partnership, is coming close to completion bringing quality affordable housing to the area. Located at South Wreath and Oakbrook Place in Manhattan, KS, Canyon Creek Apartments is made up of 18 duplexes (2 bedrooms and 1 bathroom) and the community contains green space with picnic tables, park benches, garden space, and a community building. All units are one-level with 1,034 Sq. Ft. and come with a one-car garage, backyard patio, range oven, microwave, dishwasher, refrigerator, washer and dryer. They're all-electric energy-efficient units. Two units are fully accessible and one unit is sensory.
16 units at 60% AMI, $625 a month (water, sewer, and trash included)
15 units at 50% AMI, $550 a month (water, sewer, and trash included)
5 units at 40% AMI, $450 a month (water, sewer, and trash included)
Canyon Creek Apartments received $607,893 in Federal Housing Tax Credits from the Kansas Housing Resources Corporation (KHRC), $999,000 in AHP funds from the Federal Home Loan Bank of Topeka, and $500,000 in HOME funds from KHRC. Horizon Bank provided a construction loan of $5,300,000. The total project cost of Canyon Creek Apartments is $7,748,890.
Partners:
Developer: Excel Development Group
Management Company/General Partner: Manhattan Area Housing Partnership
Contractor: Schultz Construction
Tax Attorney: Kutak Rock
Accountant: DOZ Indianapolis
Architect: Architectural Design Associates
Federal Housing Tax Credit Syndicator: Midwest Housing Equity Group
Term/Construction Loan: Horizon Bank
AHP Funds: FHLBank of Topeka
HOME Funds: Kansas Housing Resources Corporation
Federal Housing Tax Credits: Kansas Housing Resources Corporation
Engineering: Rega Engineering
For Canyon Creek Apartments leasing information visit: https://www.mahpinc.org/canyon-creek-senior-housing.cfm